Founded in June 2005, it is the first specialized squash training center in Egypt, the Middle East and Africa. The Academy is open to all ages and levels, its mission is to reach squash enthusiasts regardless of age, gender, social class or economic capabilities. Now, after only 12 years; ElBorolossy Squash Academy boasts a membership of over 2500 players, making it the largest squash training center in the World. The Academy became one of the most famous and prestigious squash centers in the World, where squash players from all over the World come to train at.
The Academy has
5 branches :
ــ Lake House Club.
ــ Petrosport Club.
ــ Sky Resort.
ـ InterContinental City Stars.
ــ Maadi Family Land .
ـ Tawfekeya Club.
ــ Senzo Club in Hurghada.
The Academy features the
following activities:
ــ Squash training for juniors, amateurs and professionals.
ــ Squash events, both national and international.
ــ Squash Camps, hosting squash camps for local and international clubs.
The Academy Founder
& Managing Director:
Omar ElBorolossy
ــ
One of Egypt's best squash players on the national and international levels. His career included 8 years amongst the top 20 professional players in the World, that included winning 14 Professional Titles in addition to holding the rank as Egypt's # 1 player from 1999-2002. He represented Egypt in 7 world team events which included winning the junior title in 1994 and the men's title in 1999 for the first time in Egypt's history.Parallel to his remarkable squash career, Omar also successfully acquired a degree in construction engineering from the American University in Cairo 2000.
ــ President and Managing Director of EngiSports S.A.E. it is one of the first Egyptian companies working in Squash Development in the fields of Engineering, Marketing and Management.
ــ
World & British Open Masters Squash Champion 2014.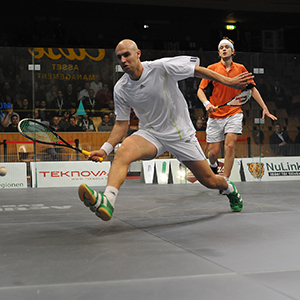 ــ Certified National tutor from the World Squash Federation
ــ Current coach and trainer of many top professional players, Including world champion & world # 1 player Noor ElSherbini and world top 10 players: Fares Desouki & Omar Mosaad.
ــ The Technical Manager and Head Coach of the Egyptian Men and Women National Squash Teams from November 2013 to December 2014.
ــ Sports Director of Wadi Degla Sporting Clubs between January 2010 till April 2011, in charge of managing and operating all the clubs sports academies and facilities, including; Arsenal Soccer School, JC Ferrerro Tennis Academy and Wadi Degla American Football Academy .
ــ Involved in the Egyptian sports development from the period between 2005 till 2010, by sitting voluntarily on the following boards:
.The Technical Committee of the current Egyptian Squash Federation, in charge of improving court conditions, availability,                      competition rules and regulations.
.The Professionalism Committee of the National Sports Council as a representative of individual sports.